Summer 2018 take home Pups!
Update Aug 30, 2018-
This older female pup has now gone to her forever home.
She has a sweet mellow temperament as well as being beautiful with white markings! She is colored Apricot with white marks. We expect her to be 45-60 lbs. as an adult.
This older pup has been crate trained and is sleeping throughout the night in her closed crate. This means less stress! She knows sit, down, and leash introduced.
(Please scroll down to see a recent video)
Video of Kam, sire of past Litter!
Video of Shelly, past pup. She is now in her new home.
Solid color pups = $2,500.00
MINI solid color pups= $2,800.00
(There is an additional WA state retail sales tax to be added)
For more info, click here:
5 Weeks Photo of Princess Peony !!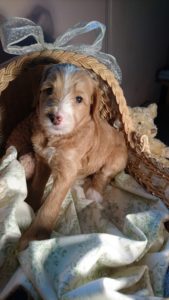 Princess Peony
Rose Collar Female–Reserved
Emma, (mama of litter) as a young dog
Pups listen to dog therapy music daily and puppy sound proofing sounds.