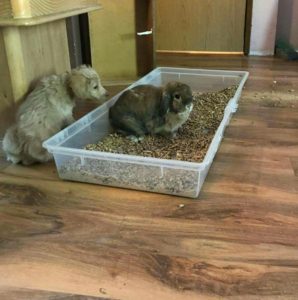 Livia's sister Bambi (right) shows her how it's done.
We start training our pups early when it comes to using a litter box. Shortly after the pups turn two weeks old and when they are mobile, we gradually introduce the wood pellets for potty training. By nature, they start to crawl away from their comfortable sleeping spots, looking for a place to urinate. We have had much success with this technique; you just remove the fecal matter with a scoop and the wood pellets break apart, making them able to be thrown back to the earth. You can find stove-burning pellets at your local hardware store.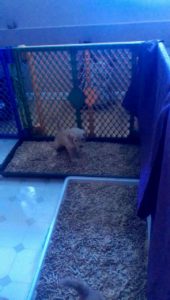 Good job, Luna!
You may be thinking, "When I take my pup home, I want my pup to potty outside." Before your pup goes to its new home, we crate-train and introduce them to outdoor potty training. This will make it easy for your pup to be housebroken because young puppies can not hold their bladders for long (only 1-2 hours). It would be best to have a tray of pellets if you were to leave your puppy for a long period in a confined area, as opposed to leaving them in a crate for several hours. If you were to do strict crate training when you take your puppy home, you would have to do it every two hours.