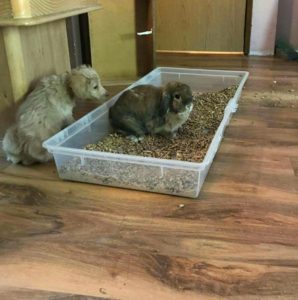 Livia's sister Bambi (right) shows her how it's done.
We start training our pups early when it comes to using a litter box. Shortly after the pups turn two weeks old and when they are mobile, we gradually introduce the wood pellets for potty training. By nature, they start to crawl away from their comfortable sleeping spots, looking for a place to urinate. We have had much success with this technique; you just remove the fecal matter with a scoop and the wood pellets break apart, making them able to be thrown back to the earth. You can find stove-burning pellets at your local hardware store.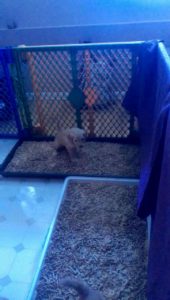 Good job, Luna!
You may be thinking, "When I take my pup home, I want my pup to potty outside." Before your pup goes to its new home, we crate-train and introduce them to outdoor potty training. This will make it easy for your pup to be housebroken because young puppies can not hold their bladders for long (only 1-2 hours). It would be best to have a tray of pellets if you were to leave your puppy for a long period in a confined area, as opposed to leaving them in a crate for several hours. If you were to do strict crate training when you take your puppy home, you would have to do it every two hours.
Pregnant dog having tummy issues from over eating? Having issues with your pup/dog's sensitive tummy? We use this on a few of our dogs when they have eaten something that upsets their tummy , and it saves the day! Also make sure your pet is dewormed and vet checked if symptoms persist.
Click on the link below to order your pet tablets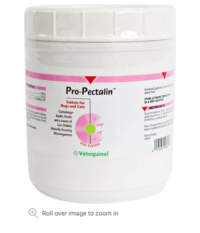 LITTERBOX REVIEW FOR GOLDENDOODLE LABRADOODLE PUPPIES ! IT'S SIMPLY THE BEST!!!AS A BREEDER for over 10 years, I was so very excited to have found this unique litterbox recently ! I have searched high and low and finally found our dream litterbox!! It's the perfect size/width/height for a litter of pups and keeps their pup area much cleaner than what i've used in the past! Metal litter pans have sharp corner/edges and shorter litter pans don't keep the pellets in for long , but this is amazing, it keeps things much more tidier ! The height of the sides helps prevent wood pellets from scattering and the entry opening is just the right height for young pups to access. Excellent for one or multiple pups! Order yours through us today by clicking on our link below , it helps support us, Thank You! Piggy Poo and Crew Litterbox just became available this month (February 2021), check out our affiliate link below, thank you again! Great size for Standard and mini pups!