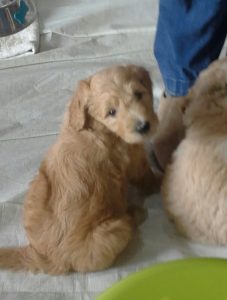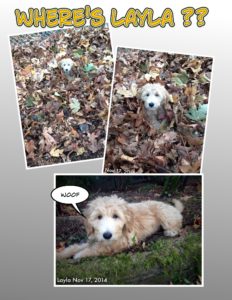 Hi Aimee..
Wow, wish we had the time for another Layla.  Actually, everyone she meets wants her.  I even had an offer from a man at Home Depot who, after petting her, asked me if I wanted to sell her!  Really…I said get in line.  I did send this off to a few people, but most either cannot have a dog where they are living or aren't really at the stage where they could get one.. i.e. grad school.
However, she is truly wonderful.  Our vet asked me to let her know if I knew if you were "expecting" again as she often gets asked by people who are looking for a great dog.  She told us that Layla was one of the best behaved and sweetest dogs she has ever seen.  She said, "I never say that.. but she is so wonderful."
She would not have been this way, I don't think, without the great start you and your family gave her from the beginning.  All is terrific with our truly amazing Layla.
Debbie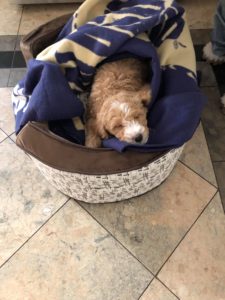 12/2017-  Diego
We were fortunate enough to have been referred to Aimee from a previous laladoodle customer. She kindly welcomed us into her home to look at current litter even though they were all reserved. We wanted to make sure that the dogs were coming from a responsible breeder and loved. After an hour we saw all we needed and reserved a spot for next litter.
Aimee gave us many updates leading up to the birth of the litter. Aimee was in constant communication with us. She sent us many pictures and videos of the litter. Since we had long reserved a spot for the litter, we had the first pick. We finally visited the litter and fell in love with one pup and he would become our Diego. Aimee used his name immediately when training him. For two months, Aimee gave us daily updates and we never felt far away from Diego. We were able to visit him on multiple occasions so that he was familiar with us. The dedication and care in Diego and the other pups is evident. Aimee cares deeply about her own dogs and that care carries onto the litter. She spends a great amount of time with them and trains them at a young age. It has made the transition very easy once we picked up Diego. We are continuing the training foundation set by Aimee and to great success. Diego is a fast learner and everyone loves him. We could not be happier with the newest member of our family.
If you're looking for your newest member of your family, I cannot recommend Aimee enough.
Daniel Riojas & Brittany Martin