Expecting Gorgeous Red and White Tuxedo or Abstract Multigen Puppies 30-35 lbs with that lovable Sweet Teddy Bear labradoodle look like Daddy Romeo.
I' m sorry-all the PUPPIES are now reserved.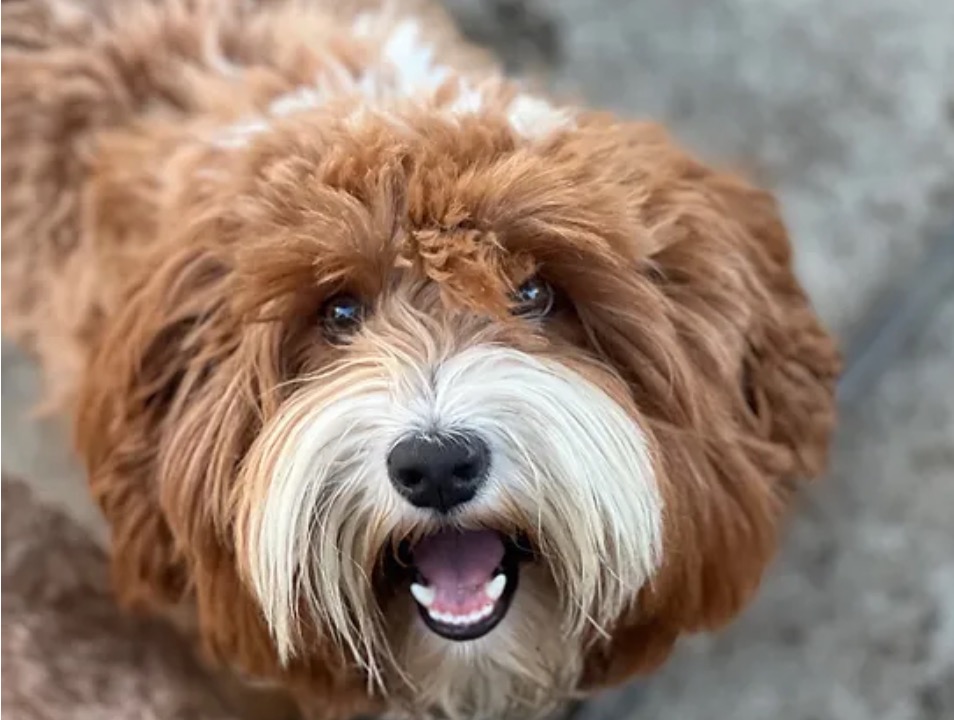 Monarch's Romeo
"Romeo "
Australian Labradoodle
ALAA-109514
Romeo is a super sweet handsome stud with a soft non shedding wavy loose coat. He is OFA registered for hips, elbows, and eyes. His stands at 16 in. and weighs 25 lbs. We are so happy and excited to be able to pair Lolly with this handsome sweet boy . He comes from the wonderful breeder Tatyana at West Valley Labradoodles.
Puppies are scheduled to arrive in March 2023 and will be ready for their new homes in late May 2023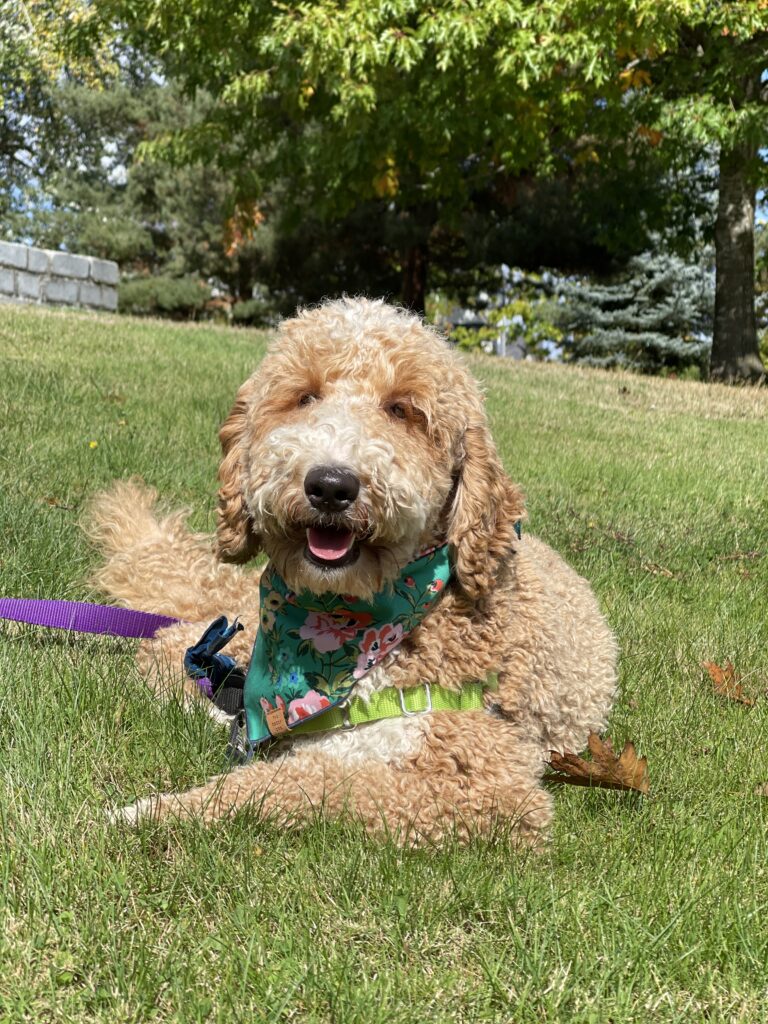 (parents are Molly Multigen Double Doodle and Kam AKC Poodle)
Lolly is sweet and super smart and lives in our home. Her coat is soft and curly and she does not shed. Lolly is a mini size at 19 in tall and weighs 40 lbs. Lolly has amazed us with her intelligence! She has learned come to heel pivot and also learned to touch the fluent pet talk buttons last year! Her favorite thing is her soft stuffed toys.
Waitlist now open!
Reserve your spot on our waitlist now to get top picks!
1. FEMALE DARK PURPLE– RESERVED for Paul S. DEPOSIT RECEIVED 02/08/2023

2. FEMALE ORANGE RESERVED for Annie , Tesfay, & Family DEPOSIT RECEIVED 03/16/2023
3. FEMALE YELLOW RESERVED for Zeca C. DEPOSIT RECEIVED 03/29/2023
4. MALE BLUE RESERVED for Lindsey R. & Family DEPOSIT RECEIVED 04/04/2023
5. FEMALE LIGHT PURPLE – RESERVED for Linda & Henry V.
DEPOSIT RECEIVED 04/14/2023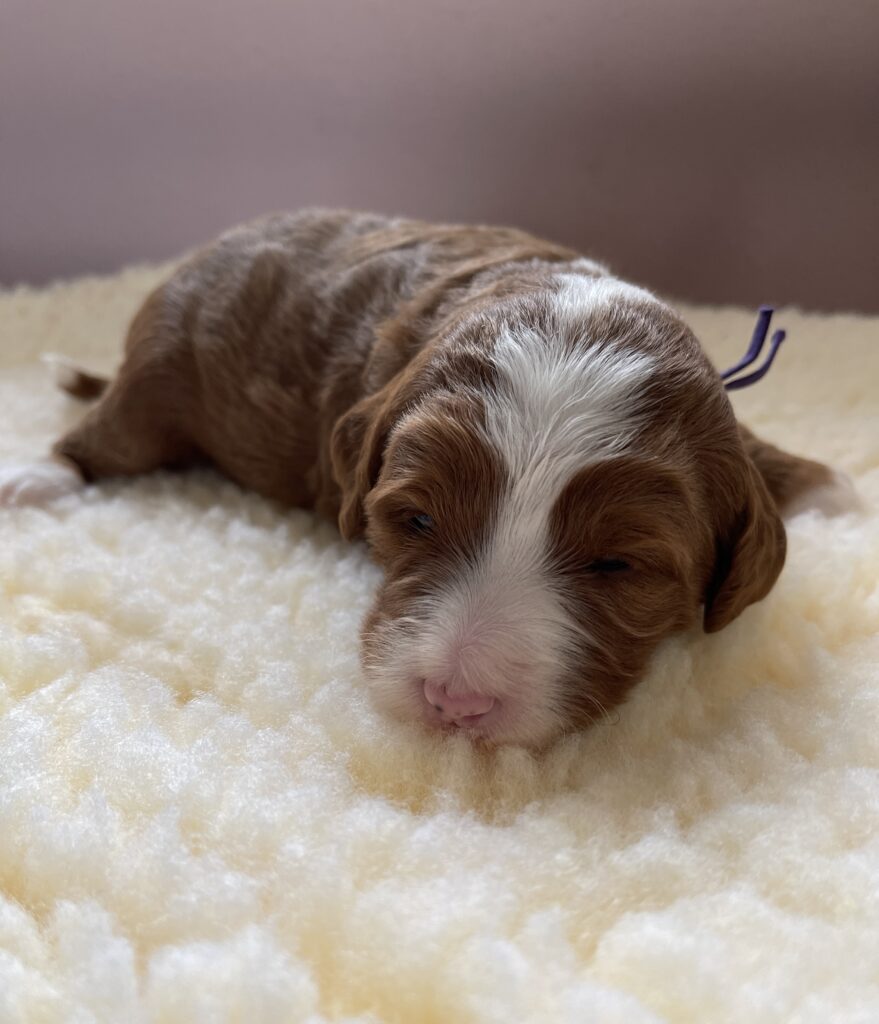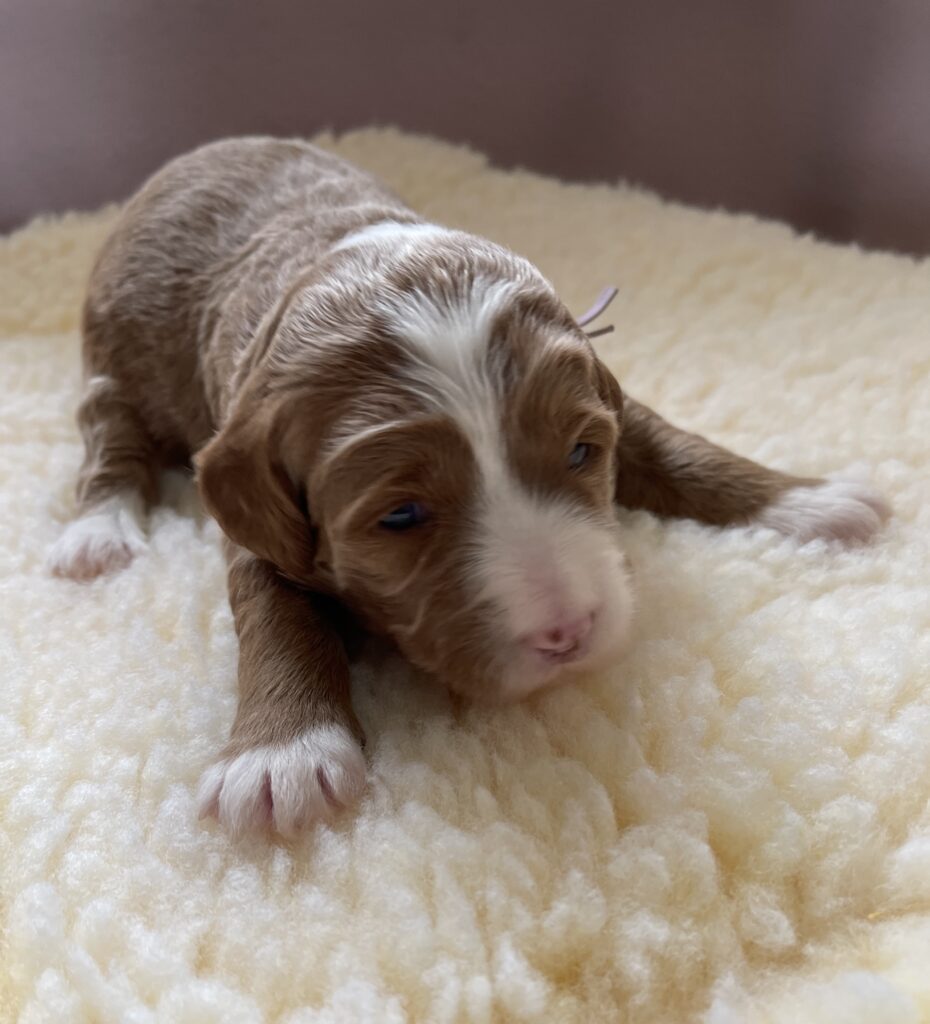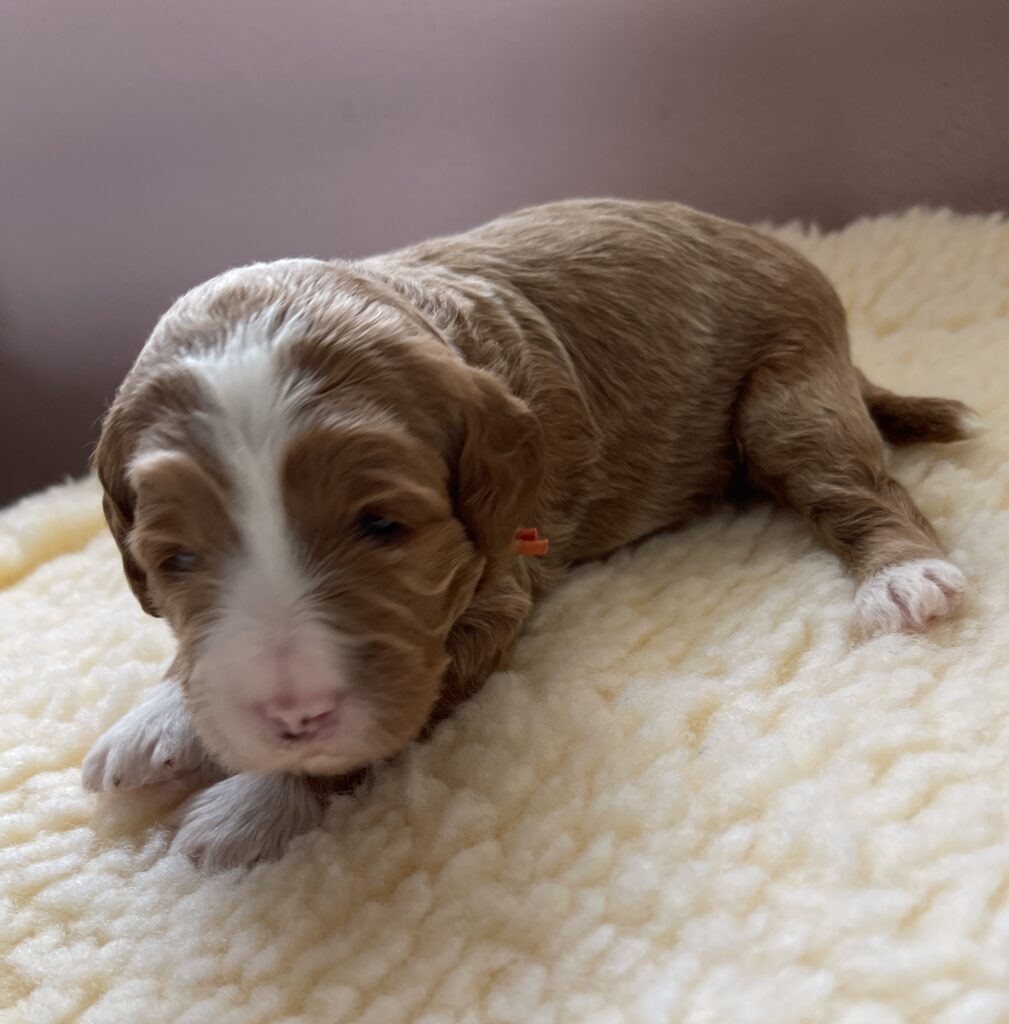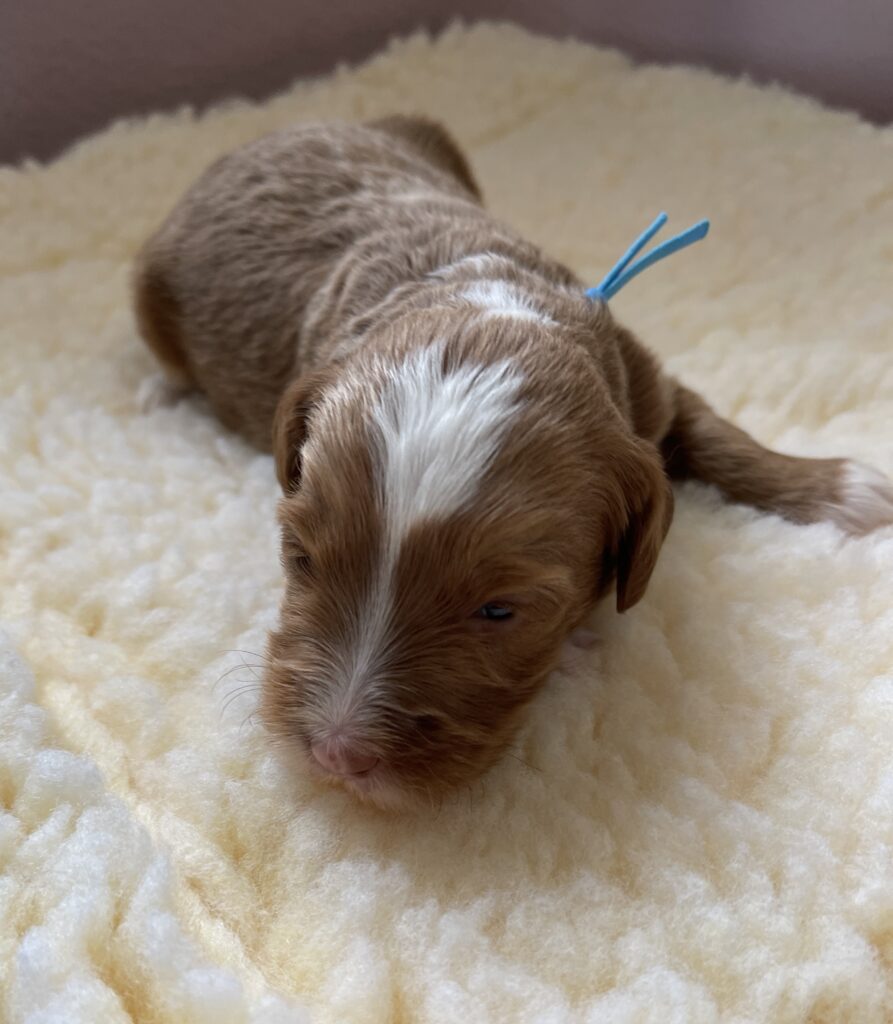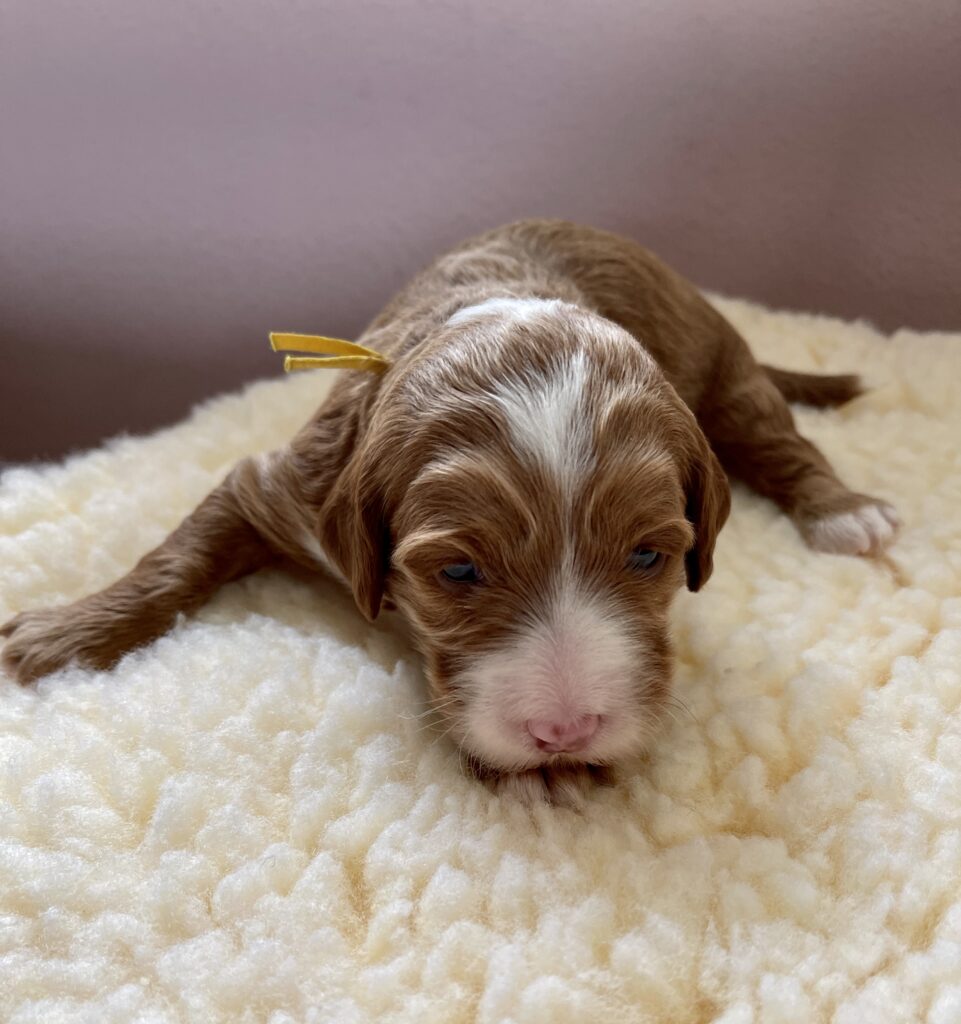 See and listen to our calm dog therapy music (created by my eldest son) that we use while raising our pups and use this while crate training. It includes mommy lolly's happy noises in the music! Click here and use while you continue to crate train your pups!
Subscribe to our video channel to get the latest video
Lolly's past pups grown!
SEE HOW SOME PUPS DARKENED !! 😀😀😀❤️❤️❤️
Click video below!
LOLLY & ROMEO
Mini Litter
Beautiful litter from Lolly and Kona of Mini Red and White Abstract and a few Partis 25-35 lbs range. Handsome Kona is an intense red and we are expecting Lolly and Kona's pups to have some pups in this litter that have coats that will darken through time to stunning reds!! Lolly and Kona's pups to be ready to go to their new homes on the last week of September 2022 after they turn 8 weeks of age. Reserve now to be on the waitlist to get top selection of pups! Kona and his father have kept their beautiful intense red color so we expect some pups to keep their dark reds lasting longer! Reserve now to get a sweet pup from this gorgeous sweet pairing!


During this difficult time of crisis with the Covid 19 epicenter here in Seattle, i am taking all the precautions i need to when sending pups to new homes, social distancing for pick ups, drop offs, sanitizing gate levers, door handles, pups food bags. I wear a mask and will need to be 15 feet or 20 feet away, just to be careful! I care about your safety and health as well as my own family. Thank you, and i pray for all our families daily.
Waitlist for Lolly & Kona- Please send me your Puppy Application if interested in holding your puppy spot!
Lolly and Romeo Waitlist
1.
3.
4.
5.
6.
7.
This planned litter is a perfect size for hiking adventures, long runs, biking trails. Moyen to mini size! Easier size to manage! Parents are both sweet mellow dogs, so we are so happy for them to pass their temperments and excellent health on to their pups. Parents are both health tested and genetic tested for healthy pups. Expecting mini sized reds, red abstracts, apricots, apricot abstracts, solid, partis. Size expected 25-35 lbs.
Pups will be ready to go to their new homes after 8 weeks of age, 9 weeks of age. Puppies pick up days to go home with their new families are at 9 weeks of age! Selection of pups must be made at 6 weeks-7 weeks of age.
Please email me your puppy application ([email protected]) if interested !
You may subscribe to our channel at aimeeseattle on you tube for notifications on puppy updates or future litter announcements! Thank You! God Bless!
Please click on this video below to view, thanks! And don't forget to Free Subscribe for notifications of new vids and updates, thanks again for watching!
Please do not contact me for pups if you do not have any experience with dogs or pup training or have no patience or time for dog training your pup.
Owning a puppy/ dog of this mixed breed requires alot of maintenance! Weekly brushing /combing to avoid matting , grooming (trims or clipper cuts) must be every 6 weeks. So you must invest in the proper grooming tools to keep your dogs coat manageable. If you leave the coat to grow 2 inches and longer, expect alot of matting and a super short clipper buzz cut ! Nail Dremel or trimming maintenance ( to avoid the nail quick growing longer ) must be done weekly! Please do your own research on how to maintain a doodle coat and learn to safely nail Dremel your pup.
Training and grooming your pup is on going for the life of your pet!

I will add links on our link tree site for a list of puppy must haves that you will need to be using for the life of your pet! If you don't have a safe environment, the patience , time for maintenance and training your puppy, please do not contact me. Thanks for reading this.
Pup training is alot of hard work and effort. Pups and dogs need training, ongoing, throughout life. Please read and watch as many different styles of dog training as possible to learn about dog behavior and how you will be helping to create the behavior in your pups daily life.
Multi gen double doodles from Lolly and Antares litter will be Litterbox potty trained indoors, learn to use doggy door to go outside to potty , vet wellness checked with initial vaccines done at vet. This will only be 1 vet visit while here, please do your research as they will still need a series of vaccines to be completed when they go to new homes at with vaccines being 2 or 3 weeks apart. Please ask your vet what their vaccintation schedule is and please make sure you make your puppy's vet vaccine appointment way ahead of time due to covid booking appointments may take longer than you think, thanks. Also, please order your puppy food online as shipment may take longer too and sometimes their puppy food is out of stock.
I also deworm pups at weeks 2,4,6,and 8.
Please do your own research about vaccinations and schedules, as after 8 weeks of age, most vets will schedule vaccines every 2 weeks, then 3 weeks, 8 weeks, 10 weeks, then at 13 weeks, 16 weeks with Rabies vaccine. Please do your research and do not over vaccinate your pets, its not necessary, pets can live a long healthy life without over vaccinations, along with a healthy diet.
Early neuro stimulation exercises done, puppy sound proofed, dog therapy music used while crate training to avoid stress for pups and families. Please continue to play this music to pups at home while you crate train them as they will be used to it and it may help them in the future for calmness. I also do sound proof puppy training to get pups used to different type of noises like fireworks, trucks, motorcyles, drills, hairdryers, law mower. Please download the Sound Proof Puppy Training App, as you should continue this training to raise a confident dog.
Pups are handled daily with a gentle touch, gentle voice for human imprinting, for a positive experience. I DO NOT over excite our pups nor do I allow any rough play. If you have small young children, please do your research about creating a more calm learning enviroment for your pup as it grows and learns from you and your family. Learn how to train your pup to be calm from the start! Some doodles take 6 months, 1 year or 2 years to mellow out or more! I recommend watching Peter Caine dog (no treat)training and Kiko pup , but the past year i have stopped training dogs with treats, as they tend to over excite dogs/pups. I continue to learn and grow. Thanks for reading.
Both parents are genetic tested to ensure that all pups are to be clear of any diseases.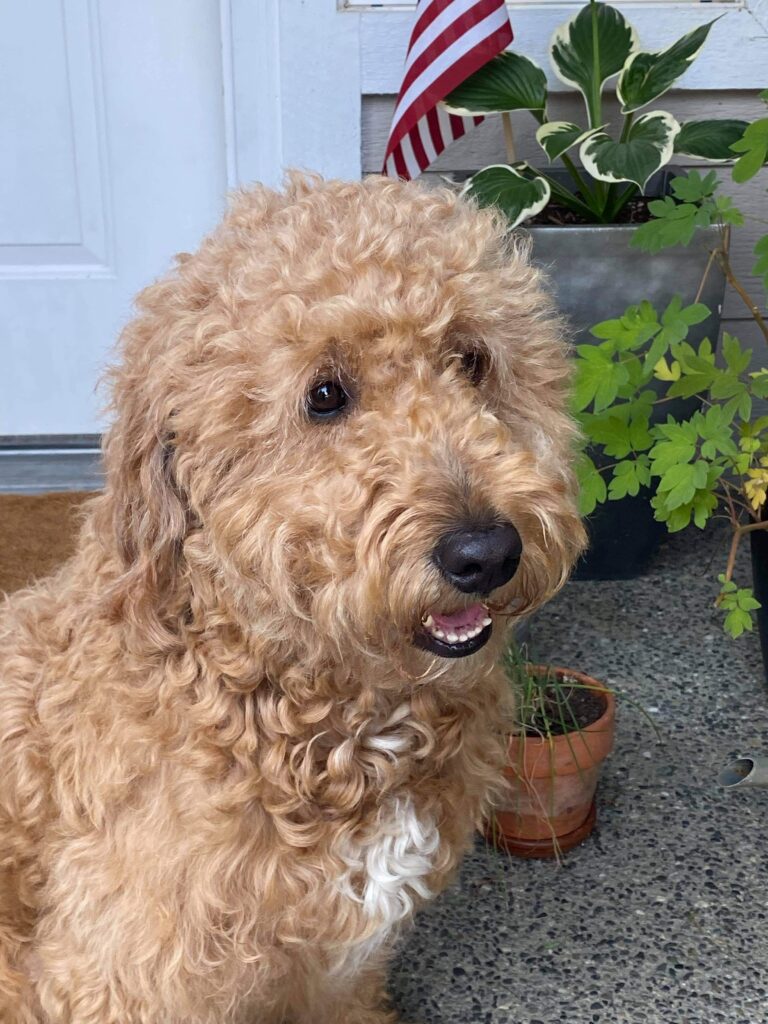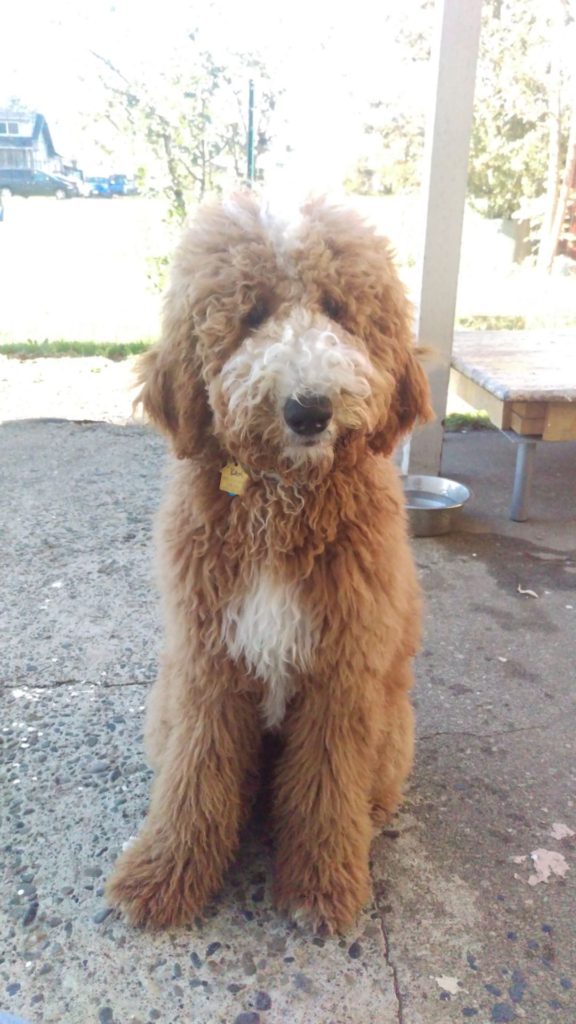 Curlier coats require more grooming but are less shedding, more relaxed coats have the more teddy bear fleece coats, will shed a little but won't tangle as easy as curlier coats if kept at longer lengths.
If interested, Please go to 'Reserve your bundle of Joy' page fill out the puppy application , copy , paste and email to me at [email protected].
Please view more info on prices on the Reserve your Bundle of Joy page, thank you for reading!