A Beautiful Multigen Mini litter arrived on August 5th, 2022 from Tilly and Antares!
We Have an Available Older Female Pup!!!
Now ready for her new home!
1 Female Available!
Expected to be 25-30 lbs
Please email me at [email protected] if interested.
Please see our puppy video below on the available older female puppy!

https://youtube.com/shorts/TkjAC16OiVQ?feature=share

Older Puppy Female Available, Tilly's Pink Female😀❤️ "Lady Emma"

THANK YOU FOR YOUR PATIENCE! THIS IS TILLY's RETIRING LITTER! RESERVE YOUR PUP TODAY!
If you would like to reserve an older puppy , please email me your puppy application first before sending your deposit to hold your puppy on the reserving waitlist, thank you.
Photos below of Tilly's available pups!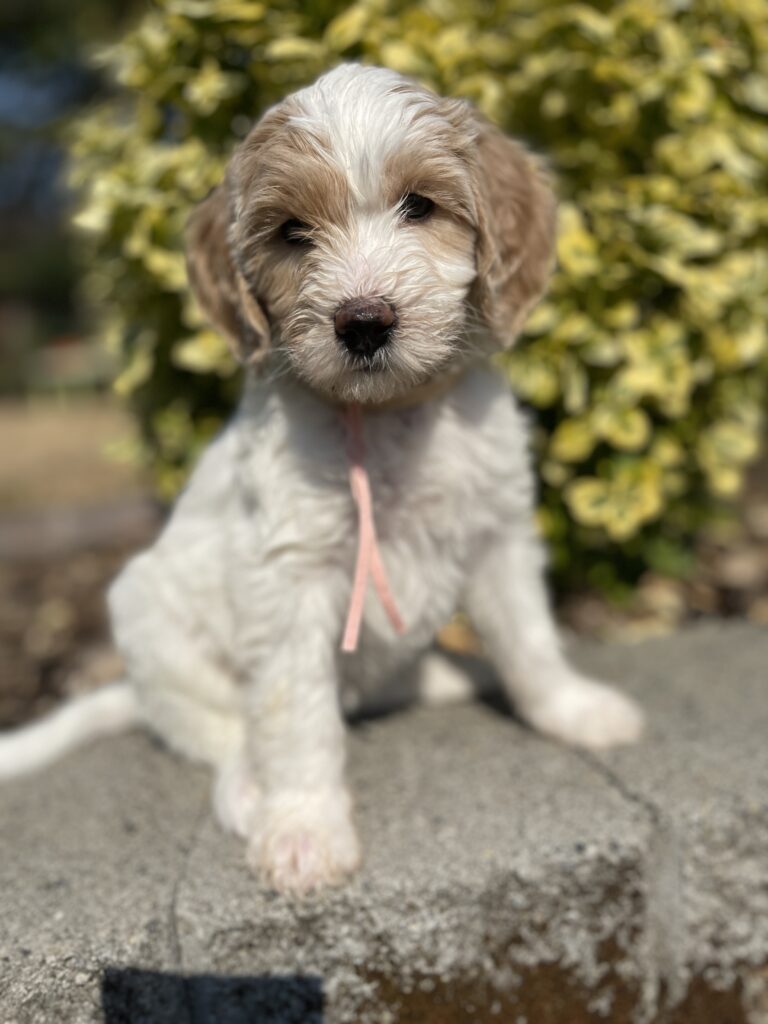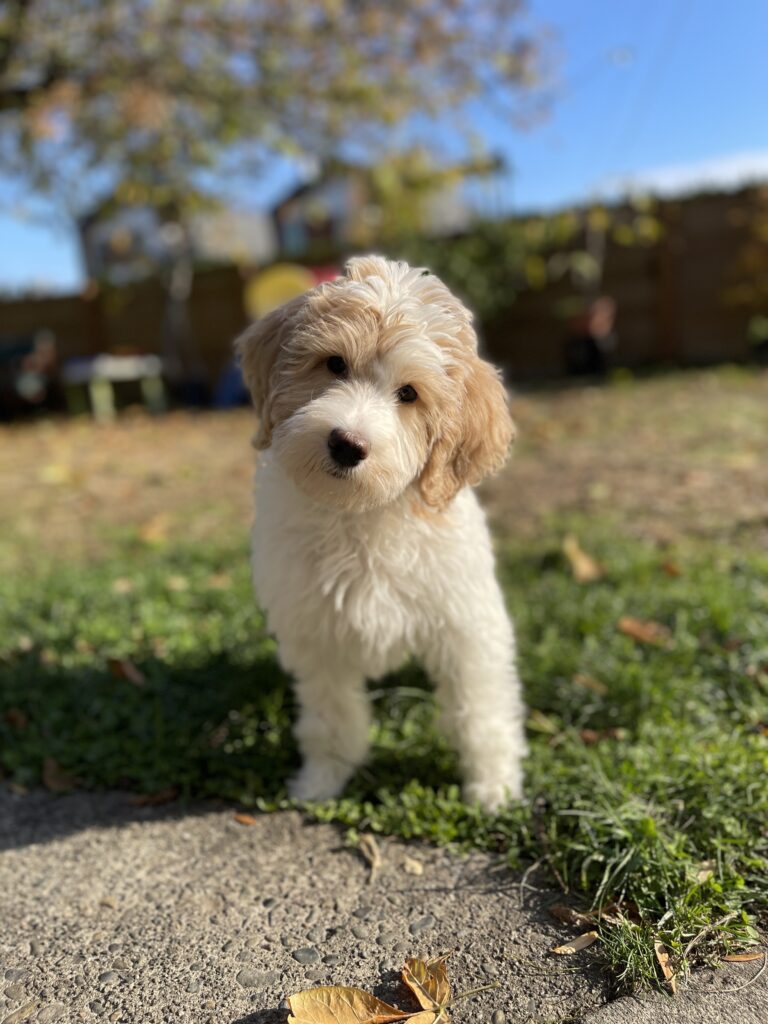 Hi! My temporary name is Lady Emma! I'm super sweet, human bonded, used to gentle hugs and touches daily .
Raised with our calm dog therapy music created by my eldest son.
She enjoys playing fetch with soft stuffed toys and balls. Nail dremel and gentle paw handling done weekly to avoid fear of grooming. Used to bathes and blow dries, she has done so well and not panicked during grooming on top of grooming table.
litter tray trained since 3 weeks old, uses a litter tray when she is in her puppy pen area. Also knows how to use the doggy door to go outside and potty. She spends time outdoors playing and encouraged with praise to potty outdoors. Socialized with our adult large dogs during daily. Sleeps in a Diggs revol crate with her soft chew toys, deer antler chews, and snuggle puppy. She is crate trained during the day time and settles easily in her crate when closed. At night she sleeps in her open diggs crate in her puppy pen area. Music is played daily . She has learned to use the Fluent Pet Button " Treat" . She is being trained at the moment to walk on the left in heel position and started training to spin to heel position.
She is using a harness while leash training. Very smart like her momma Tilly! Wonderful Beautiful Sweet pup! She has a soft smooth coat that will be easy maintenance as she ages, a loose wavy very easy to maintain at home with combing/brushing.
Our older pups can hold their bladder a little longer than an 8 weeks old puppy. But they will be more able to hold their bladder at 6 months of age. So they will still need to potty outdoors or on indoor litter tray every few hours.
Our older pups have had more crate training with our dog therapy music. Also desensitized to loud fireworks sounds with puppy sound app played daily.
Older Female Puppy available
$3,500.00
Both parents health & genetics tested for healthy puppies.

Reserve your older puppy today!
Please subscribe to our channel for notifications on pregnancy , litters updates , and to support what we do. Thanks so much!
The puppies from this litter ( 25-35 lbs) will all have friendly sweet temperaments from both parents. This is a perfect size for smaller spaces, much easier to manage a mini size for getting into and lifting up to car. These are just the right size dog to go on hiking and will be great running partners! I make sure each pup is human bonded, loves to play fetch, and is socialized with older, larger, and small sized dogs.
We expect Tilly's puppies to be in colors of apricot, cream, and possibly a red. We expect the puppies to be partis and abstract/tuxedo in this litter. Puppies are expected to be 25-35 lbs. Females tend to be in the 25-30 lbs and males in 30-35 lbs range. Thanks so much for your patience.
Tilly
Please subscribe to our YouTube video channel to get notifications on this litter and pup updates!
Antares
Please click on this video below to see Tilly and Antares and you may subscribe to get notifications on future pups!
I am expecting partis in apricot, abstract /tuxedo apricots, and possibly a red. So very excited for this mini litter! Expecting pups to be 25-35 lbs.
Please see our youtube video channel for puppy updates and to see past puppy litters.
Tilly will produce multigen pups with our handsome sweet micro mini parti Antares ! Please watch my planned litter announcement video for Tilly for more information on our YouTube channel at aimeeseattle. Thank you!
You may subscribe to our video channel to get notifications for planned litters or updates on pups! ❤️ Thank you!
Also, if you like, you may subscribe to our video channel for pup video updates. Thank you, God Bless!
Expected size of pups as adults 25-35 lbs.
Ready to take home

in July 2021!

This will be a mini litter (30-40 lbs)

Waitlist now closed!
Please email me if you are interested. I have spots available! Thank you for your interest!
If interested, please send your puppy application to my email at [email protected]
Please copy, paste, and email. Thanks.
The puppy application can be found at the bottom of the "Reserve Your New Bundle of Joy" page. Please copy application, paste to your email to send to me. Thank you!
Please click on these purple words to get to the puppy application and reserve your bundle of joy. Thank you!
Nacho (micro mini) , a non fading red parti, father of Antares