I have an Older Female Puppy Available!  She is now ready to go to her new home on November- December 2022! 😀
I have an older female  pup available in Tilly's litter! See Tilly's litter page! Thank you!
November 4, 2022-
I also have a very beautiful red adult dog available!
A standard size double doodle Queen Emma !  She is lovable, loves to play fetch! Email me if interested!
Queen Emma in the photos below.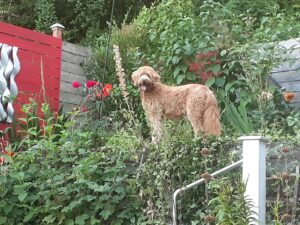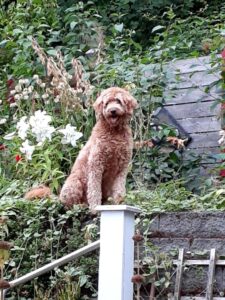 Video of past female older puppy Pax (Yellow Collar)
Update: 4/30/22- Yellow Collar Female "Pax" has been reserved and now lives with her new family in Bellingham. She lives with a beautiful family with young children and a past Laladoodle pup Ziggi 😀❤️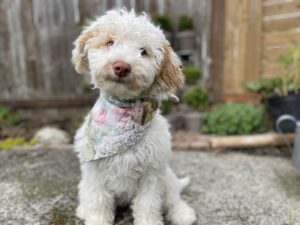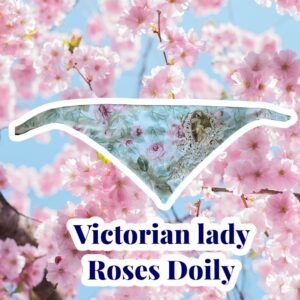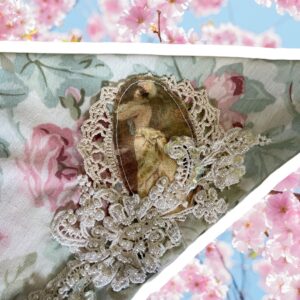 Please email me a Puppy application if you're interested in a future older pup!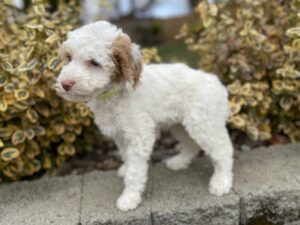 Available – "Pax" (Yellow Collar Female) Parti White with Apricot Marks, Hazel Eyes ( Green with Brown and Gold )  Expected to be 22-35 lbs.
She has a sweet temperment! Playful!  She loves to run and play fetch! Loves to run after a toy if you toss it, and also a ball! Played with daily so she could get used to playing fetch or ball. Loves her chew toys and stuffed toys! Super smart! She is trained to use a litterbox and also knows goes out through doggy door to potty outdoors on mulch/grass! 
She is crate trained with our Laladoodles calm dog therapy Music, which includes sounds of momma dog Lolly! She has been crate trained by me for the past 2 weeks and she does'nt cry in the crate because she likes to go in crate with her chew toys and stuffed toys and takes a nap there while i have our calm dog therapy music video playing. She uses our soft Sherpa bedding in the Diggs revol crate and also the metal crate she uses has the Sherpa bedding for softness and comfort.  She enjoys spending time socializing with our older dogs . She likes to chew on an elk or deer antler.  She is so smart!  She has started learning to push talk buttons " treat" and "hugs".
She is ready to go home to her new home!  Please email me your puppy application if interested! 
Our Laladoodles Older Pups can:
hold their bladder much longer than a younger pup
be crated easier since they had weeks of crate training relax in crate due to conditioning with our laladoodles calm dog therapy  music to that's prevents anxiety
sleep through the night in their crate much easier since they will have had weeks of crate training here at laladoodles
Go to sit and down command 
enjoy playing fetch several times a day
enjoy your company easily as they are human bonded enjoys being petted and cuddled since they are used to it here
be hand-fed much easier for therapy /service dog training because they are never hand shy due to our daily human touch and calm interactions
learn to walk on heel on left side on leash training much easier as they will have walking on heel conditioning daily 
learn to come to heel position/ spin to heel position
If you would like to know more, you may click on the link on the bottom of the page for more information on the puppy extended stay board and train
Past Older pup: Shelly(vid from April 5, 2018)
http://How to train puppy to be calm- NoTreat Training https://youtu.be/fB4LilzVTsQ
Update : March 6, 2022
Older pups are eating Natural Balance Limited Ingredient Diet (L.I.D) Lamb and brown rice puppy kibble
Socialized with adult large dogs, human bonded, sweet, friendly, playful, sweet temperament! Coats low to non shed multi gen.Vet checked, age appropriate vaccines given. Crate trained several times during the day for house training, uses adult doggy door, potties outdoors on our mulch dog run area , also trained to use an indoor potty litter box when they were younger. Sleeps through the night in crate. Leash-walked and trained to not pull to walk on left side heel for a less stressful walk for both you and your pup!
Must take out before bedtime and first thing in the morning.
Very sweet happy, playful puppies.
Our older pups are petted, massaged and played a game of fetch daily. Pups listen to our Laladoodles calm dog therapy music while being crate trained, and alternate with no music. Music created by my eldest son Andrew Santa Monica. 
For serious inquirees, please email me at [email protected] if interested.
If interested, please fill out puppy application (on Reserve your bundle of joy page) and send  (you can also copy and paste send) to [email protected]
Thank you for your interest!
____________________________________________
Puppy raising experience preferred!! Owning a pup or dog is a lifetime of training!
Older pups still have to be supervised and taken out to potty during the day every 3 hours if crate training and monitoring water intake for success.
If interested, please email us and fill out puppy application (on Reserve your bundle of joy page) and send to [email protected]
Please read 'reserve your bundle of joy' page for more info.
Thank you!
If you want more information about older pups with extra training click on the link below:
Puppy Extended Training click link below:
https://www.laladoodles.com/puppy-extended-stay-board-and-train/