My early childhood in Hawaii was in a loving-but-strict environment. We lived in a small apartment that didn't allow dogs or cats, so my excitement was to be outdoors and admire nature's creatures, butterflies, and insects, as well as search for dogs and cats in need in the surrounding neighborhood.
Later, still in elementary, we moved to Guam. On my daily walk to my bus stop, I befriended a young puppy on a tie out in someone's driveway, I didn't understand why it had many rubber bands grown into its infected legs, I was painfully shy and didn't know how I could help, and no one around me talked about those sort of things back then. Seeing dogs and puppies mistreated and witnessing one of our pups being accidentally killed in my youth, I guess this is somewhat of a therapy for me–to care for and nurture puppies so they can go on to responsible loving homes.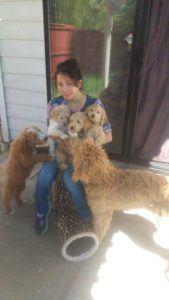 Our goal is to responsibly care for our pet dogs and gently raise pups from health-tested parents and strive for therapy/service potential pups so that other families can also experience a well-tempered, loyal, and beautiful companion in their lives.