Red/Apricot White Tuxedo Litter!
During this difficult time of crisis with the Covid 19 epicenter here in Seattle, i am taking all the precautions i need to when sending pups to new homes, social distancing for pick ups, drop offs, sanitizing gate levers, door handles, pups food bags. I wear the N95 mask if i need to be 15 feet or 20 feet away, just to be careful! I care about your safety and health as well as my own family. Thank you, and i pray for all our families daily.
Update June 2020:
We are planning a gorgeous tuxedo litter from Tilly and Kam, moyen and small standards 😀 ❤️ ❤️ ❤️ This will be Kam and Tilly's Red Tuxedo Litter ! They may honeymoon sometime in July, for pups take home in November 2020. Expected size of pups as adults standard 45-55 lbs. We are still awaiting Tilly to go into heat, Thank you for your patience!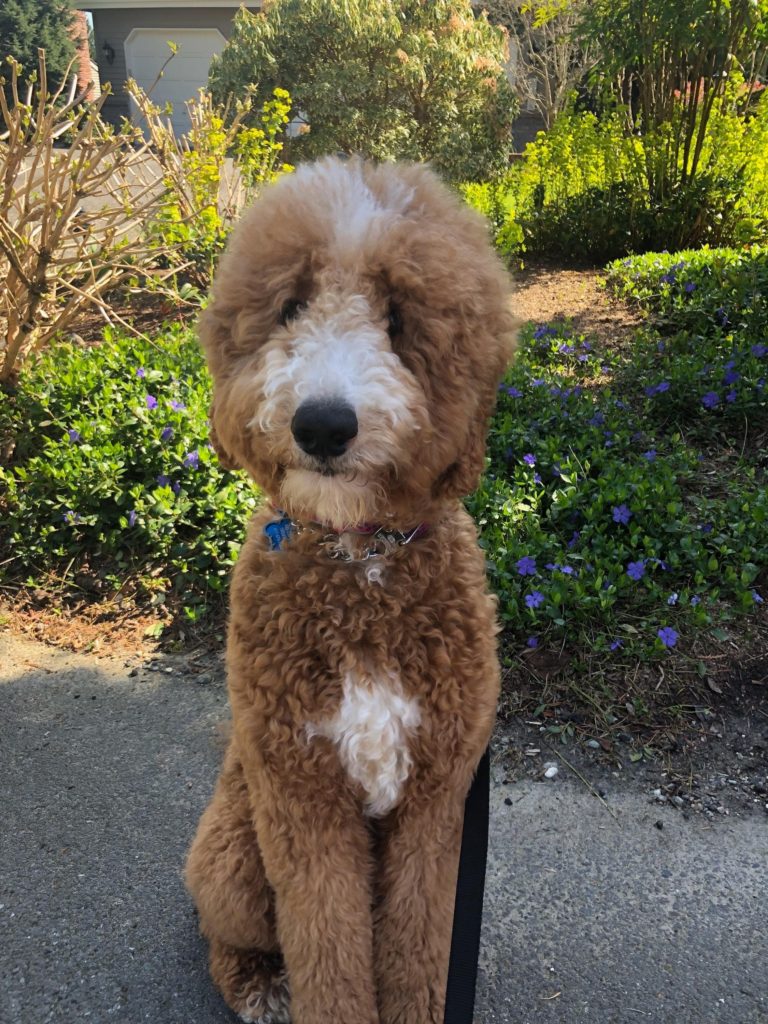 This is a perfect size for active couples or families who like to go on hiking adventures, long runs, biking trails. Tilly and Kam are sweet mellow dogs, so we are so happy for them to pass their temperments on to their future pups. Parents both health tested and genetic tested for healthy pups.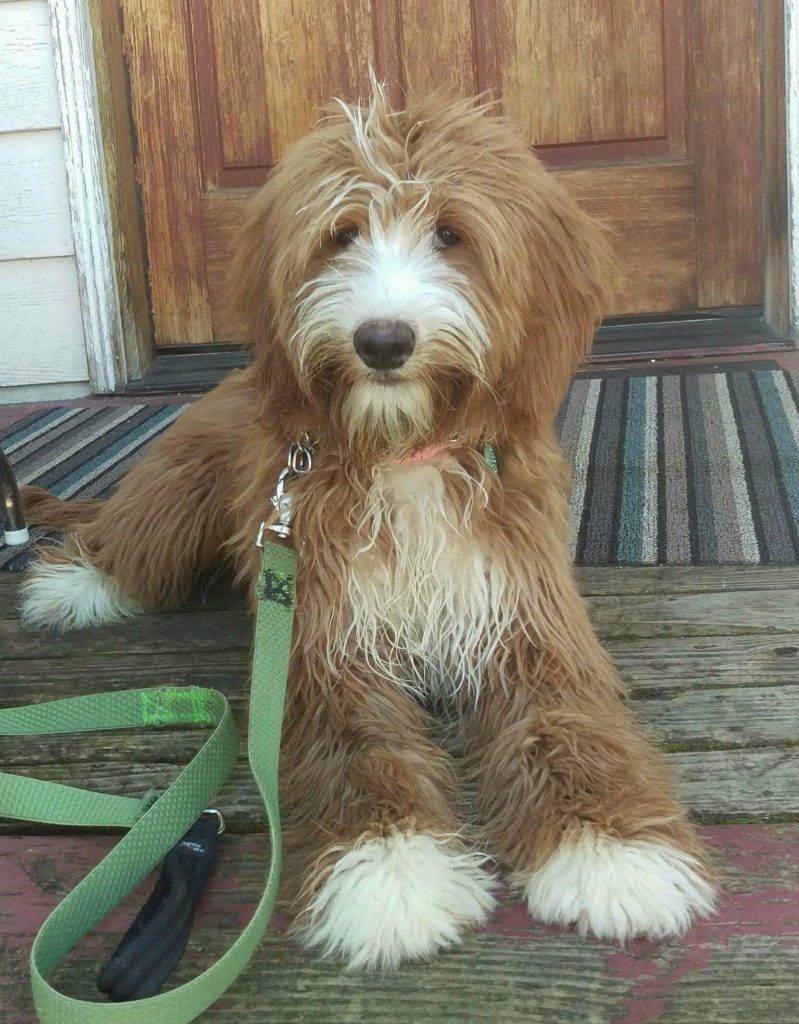 Waitlist is now open for the Tilly and Kam Tuxedo 2020 Fall Litter!
Tuxedo Pups -$2700
1.Reserved Female Tuxedo-ASM
2.Reserved Male Tuxedo- Beltina V.
3. Reserved Female Tuxedo – Meghan M. & Family
4. Reserved Male /Female -Christy & Jeff
5.
6.
February 21, 2020 1 week Video Update!
If you like, you may free subscribe to our channel to get notifications on puppy videos , announcements, and updates on pups available. Thank you for watching! God Bless!
Please see 'Older available pups' page in April for the pups available in this litter, thank you!
Please click on this video below to view, thanks! And don't forget to Free Subscribe for notifications of new vids and updates, thanks again for watching!
Beautiful, small standard sized sweet tempered very low to non shed pups will be ready for their new homes in October /November 2020 ! Expected Colors will be in the Reds and Apricots , coats will be a soft curly fleece . Expected weight as adults females 40-45 lbs, Males 45-55 lbs.
Please do not contact me for pups if you do not have any experience with dogs or pup training or have no patience or time for dog training your pup.
Pup training is alot of hard work and effort. Pups and dogs need training, ongoing, throughout life. Please read and watch as many different styles of dog training as possible to learn about dog behavior and how you will be helping to create the behavior in your pups daily life.
Multi gen double doodles from Tilly and Kam's litter will be Litterbox potty trained indoors, learn to use doggy door, vet wellness check up with initial vaccines done at vet. This will only be 1 vet visit while here, please do your research as they will still need a series of vaccines to be completed when they go to new homes at 2 or 3 weeks apart. Please ask your vet what their schedule is, thanks.
I also deworm pups at weeks 2,4,6,and 8.
Please do your own research about vaccinations and schedules, as after 8 weeks of age, most vets will schedule vaccines every 2 weeks, then 3 weeks, 8 weeks, 10 weeks, then at 13 weeks, 16 weeks with Rabies vaccine. Please do your research and do not over vaccinate your pets, its not necessary, pets can live a long healthy life without over vaccinations, along with a healthy diet.
Early neuro stimulation exercises done, puppy sound proofed.
Pups are handled daily with a gentle touch, gentle voice for human imprinting, for a positive experience. I do not over excite our pups nor do I allow any rough play. If you have small young children, please do your research about creating a more calm learning enviroment for your pup as it grows and learns from you and your family. Learn how to train your pup to be calm from the start! Some doodles take 6 months, 1 year or 2 years to mellow out more! I recommend watching Peter Caine dog (no treat)training and Kiko pup , but the past year i have stopped training dogs with treats, as they tend to over excite dogs/pups. I continue to learn and grow. Thanks for reading.
Both parents are health tested and genetic tested to ensure that all pups are to be clear of any diseases.
Curlier coats require more grooming but are less shedding, more relaxed coats have the more teddy bear fleece coats, will shed a little but won't tangle as easy as curlier coats if kept at longer lengths.
If interested, Please go to 'Reserve your bundle of Joy' page fill out the puppy application , copy , paste and email to me at a6santa@hotmail.com.
Please view more info on prices on the Reserve your Bundle of Joy page, thank you for reading!
Update June 6,2020
Announcing : Upcoming New Laladoodles Mom Tilly !! 😀 Planned honeymoon for June 2020, for puppies in August, to go to new families home in October 2020! Expecting Beautiful Reds and Apricot Tuxedo Small standards for low to non shedding.
Beautiful Red /white Tuxedo future Laladoodle mama Tilly!!
So very excited to introduce to you our upcoming sweet, beautiful, gentle Tilly! She will be honeymooning with our very handsome King Kam ! So very excited for this multi gen Red/white tuxedo litter! Tilly is a double doodle poodle mix and we anticipate tuxedo pups to be a small standard size, 40-50 lbs. Please see video below of our Sweet Beautiful Tilly! Tilly lives with her Beautiful family in Woodinville, WA.
Future Beautiful Dream Mom Tilly for 2020!!