We have a Beautiful litter of Multigen Minis!
Update!  MAY 9, 2020- THIS WAITLIST IS NOW FULL.  I MAY PLAN A MINI LITTER NEXT YEAR, THANK YOU.  HAVE A GREAT MOTHERS DAY WEEKEND! 
Minis in light Apricot Tuxedo, Caramel Red, and cream!  There are 4 Tuxedos in this litter.  This litter has 2 females and 4 males.
Whelped on April 3rd!  Puppy Pick up day for this litter is May 29th! 
Beautiful Sweet  Kelsey has whelped 6 puppies and she is doing well , such a caring attentitive mother !  Very excited for this very cute smaller sized  litter!
Kelsey is a multigen from dam Emma Double Doodle  and sire Kam AKC poodle.
You may subscribe to our video channel to get notifications for future pups or updates on pups! 😀 ❤️ Thank you! 😀 
Please scroll down to view Kelsey's video from pup to adult! 
Also, if you like, you may subscribe to our video channel for pup video updates, thank you, God Bless! 
Edit:
Kelsey and Rocket's litter is a mini  litter.  Expected size of pups as adults  25-35 lbs. Tuxedos,  1 caramel red female, and 2 cream .
Ready to take home

In late May!

This litter has  minis (25-35 lbs) 

 Waitlist now open!
1. Reserved –    Purple Collar Female – Lydia and Matt , Repeat family 
2.  Reserved –  Male or Female – Annie L. and Family 
3.  Reserved –  Male, possible Female – Molly H. and Family
4.  Reserved –  Male or female –
Julianna C. 
 5. Reserved – Male or Female – Elizabeth M. 
6.  Reserved – Male- Diana M. 
If interested, please send your puppy application to my email at a6santa@hotmail.com

Please copy, paste and email, thanks.

 The puppy application can be found at the bottom of the "Reserve Your New Bundle of Joy" page. Please copy application, paste to your email to send to me, thank you! 

Please kindly  see more info on the 'Reserve your bundle of joy' page, thank you. 
Pups with crate training and house training for less stress for you and pup during transition to new homes.
---

---

Pups are indoor litterbox potty trained, and also are pottying outdoors on their last week here.

Here's a video of past pups using the litterbox.
They have been puppy sound proofed trained while nursing and eating their food so they are used to all types of loud noises. Pups have been crate trained their last week here  daily to help with seperation anxiety. I use praise and calm voice and give them food in their crates for positive reinforcement. I do not overexcite pups and they have gentle human bonding daily.

Pups will be vet seen for their wellness check, all healthy. First round of vaccines given and every 2 weeks dewormed.
Experienced pup owners please.
Mini pups
Expected size 25-35  lbs. 
Our pups are eating Natural Balance  Lamb and Brown Rice PUPPY food. Make sure it's the puppy formula, the puppy formula has smaller bites. I order ours from chewy online ,amazon,  or i pick it up at Petco.
Please order your puppy food ahead
Update! April 18, 2020 –
Please order your puppy food ASAP online or call stores ahead to check if they have your puppy food on hand before you head over to check your pet supply store.
Due to the world's crisis, I found that online orders may take longer and stores may have shortage. I will provide some food for pup when you pick up pup, enough for transitioning to new food. But if you decide to stick with same puppy food, please  order online ahead or call stores in your area in advance.  
We have fed these brands on past litters:
Northwest Naturals Beef, Small Batch Beef, Stella and Chewys Beef, and Steve's Real food dog food in Beef
We pick up ours at 'All the Best Pet Care'.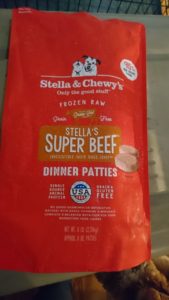 They are eating half a pattie. 3 meals a day. I give it frozen so they can take time to chew on it. I use a chisel and mallot to bust the pattie in half! 😀
___________________________________________