We are expecting Kelsey's Beautiful Multigen Mini litter in May 2021!
A MINI LITTER FOR PUPS TO GO HOME TO NEW FAMILIES July 2021 !! THIS WAITLIST IS NOW OPEN!
THANK YOU FOR YOUR PATIENCE!
If you would like to reserve a spot on this waitlist, please email me your puppy application first before sending your deposit to hold your spot on the reserving waitlist, thank you.
Please subscribe to our channel for notifications on pregnancy , litters updates , and to support what we do. Thanks so much!
The puppies from this litter ( 30-40 lbs) will all have friendly temperaments from both parents. This is a perfect size for smaller spaces, much easier to manage a mini size for getting into and lifting up to car. These are just the right size dog to go on hiking and will be great running partners! I make sure each pup is human bonded, loves to play fetch, and is socialized with older, larger, and small sized dogs.
We expect Kelsey's puppies to be in colors of apricot, cream, and possibly a red. We expect the puppies to be partis, but there is a possibility there may be a solid or abstract in this litter. Puppies are expected to be 30 lbs- 40 lbs. Females tend to be in the 30 lbs and males in 40 lbs range. Thanks so much for your patience. This waitlist is now open!
Kelsey (formerly Princess Peony)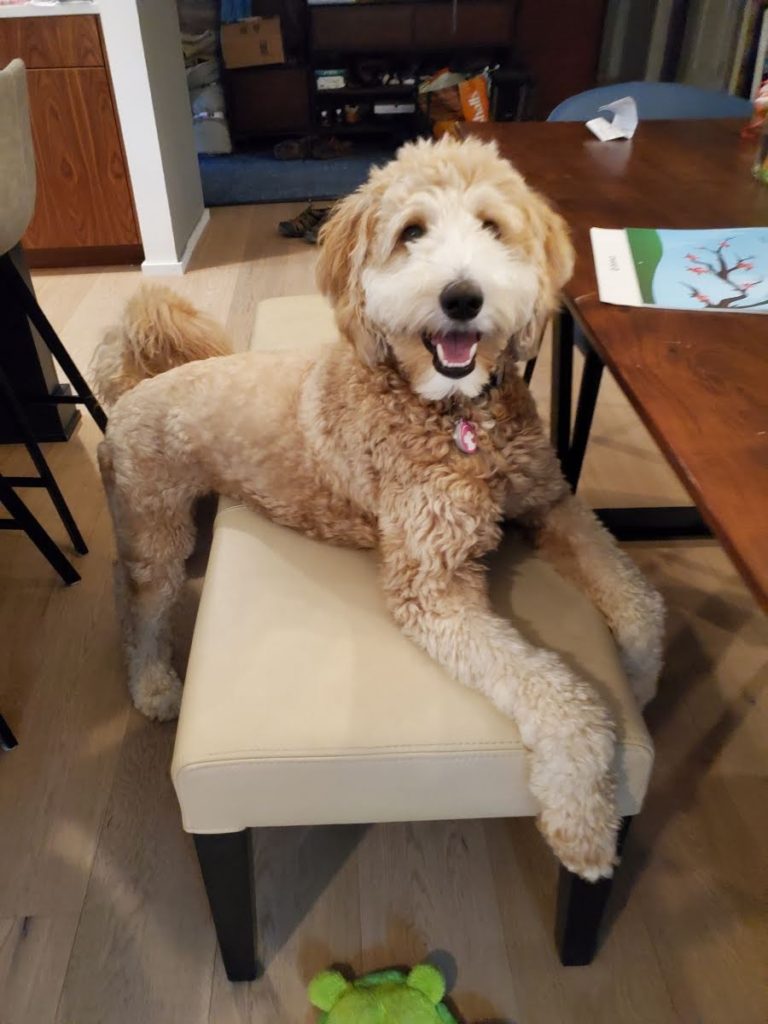 Please subscribe to our YouTube video channel to get notifications on this litter and pup updates!
Antares
Please click on this video below and you may subscribe to get notifications on future pups!
I am expecting white apricot partis, a possible Red, and there may be a tuxedo apricot in this litter. So very excited for this mini litter! Expecting pups to be 30-40 lbs.
Here is a video of Kelsey's past pups last year.
Kelsey will produce multigen pups with our handsome sweet micro mini parti Antares ! Please watch my planned litter announcement video for Kelsey for more information on our YouTube channel at aimeeseattle. Thank you!
You may subscribe to our video channel to get notifications for planned litters or updates on pups! 😀 ❤️ Thank you! 😀
Also, if you like, you may subscribe to our video channel for pup video updates. Thank you, God Bless!
Expected size of pups as adults 30-40 lbs.
Ready to take home

in July 2021!

This will be a mini litter (30-40 lbs)

Waitlist now Open!
1. Reserved Female – ASM
2. Available
3. Available
4. Available
5. Available
6. Available
Kelsey's mini pups $3,000.00
If interested, please send your puppy application to my email at a6santa@hotmail.com
Please copy, paste, and email. Thanks.
The puppy application can be found at the bottom of the "Reserve Your New Bundle of Joy" page. Please copy application, paste to your email to send to me. Thank you!
Please click on these purple words to get to the puppy application and reserve your bundle of joy. Thank you!
Nacho (micro mini) , a non fading red parti, father of Antares